BVES
Bureau pour le Volontariat au Service de l'Enfance et de la Santé(Voluntary Force at the Service of Childhood and Health)
From the founding of BVES in 1992, up until juni 2014:
128,571 children (54,000 girls, 42.0%) have been helped, including street children, servant girls, war orphans and victims of sexual exploitation.
7,562 child soldiers (454 girls, 6%) have been withdrawn from armed groups or from the armed forces.
5,715 children without guardians (3,428 girls, 60%) have been taken into care.
48,900 children (32,227 girls, 66%) who were under- or un-educated have been gone back into formal or informal education.
Personal stories
F. S.
17 years old, from Mukuija/Kalehe – ESFGA (Child Withdrawn from the Armed Forces) and resident at BVES' Transit and Orientation Centre since April 2010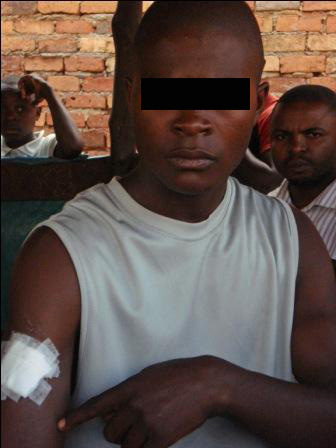 « To everyone who has a good heart:

Help us, we the child soldiers who are in the process of leaving the army and also, help the whole population. We pray that peace will come! Because if peace is not brought about, we are always at risk of going back into the army, and yet in the army there is nothing for us.

Now that we have been able to leave the army, we would like to study! We hope that people don't forget us and that visitors sometimes come to see how we live and what goes on here in our country.

We hope you send visitors like you sent Nadège (Belgian BVES volunteer), because that helps us to bring about peace here and these visitors can pass our messages on to people in your country.

We want peace because we have suffered greatly. Help us so that we can forget all the suffering we experienced in the army and so that we can build a better life. »


M. K.
17 years old - from the Island of Idjwi - ESFGA and resident at BVES' Transit and Orientation Centre since April 2010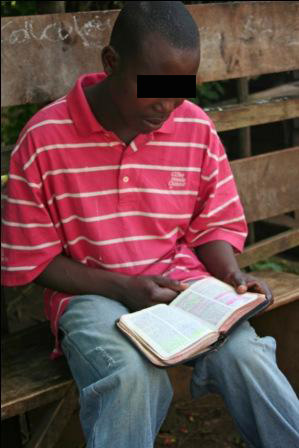 « I went into the second year of secondary school, and up until then I was doing a lot of silly things and didn't listen to my teachers or parents. I was an unruly child!
At 13, I went to Goma, in the North Kivu region, to visit my older brother. I went for a walk to see how crops were grown there and it was then that I was captured by the CNDP (the National Congress for the People's Defence). A military car stopped me and asked me for my identity card but I didn't have it. So they tied me up, put me in the car and took me to Kichanga, their military camp. There, they threw me in a hole where they left me for two months. Then, they took me out for questioning: I had to choose between dying and working for them! They left me two hours to think about it (with water and food). I said to myself that if I refused, I was going to die because there was no one to help me or warn my family. If I worked for them, I would one day manage to find a solution.
So I accepted and worked with the courage necessary to accept this difficult life. I was taught how to handle a weapon, how to salute the soldiers... And I was appointed escort of Major K. I started smoking cannabis because my friends in the camp told me that it would help me to not think too much about my family… I was the Major's escort in 2007 and 2008. In 2009, the Major was appointed Colonel and I continued to work as his escort. Also in 2009, the CNDP and the FARDC (the Armed Forces of the Democratic Republic of the Congo) signed the Kimia 2 contract (the President wanted peace) and I was working at the time for the FARDC in South Kivu, still for the same colonel in the third group of the OS zone. The Colonel then became Commandant of the OS zone, the one in charge of operations in South Kivu, and kept me as his escort.
On 6th April 2010, MONUC (the UN Stabilisation Mission in the Congo) took me out of the army and took me to BVES' CTO (Transit and Orientation Centre). I saw that as grace from God.
I stopped smoking cannabis and drinking alcohol to live in God's grace, to always be free in my life and able to carefully reflect.
For the two months since my arrival at the CTO, I've been rebuilding my life, starting from scratch so that I can be a better person and be in a position to help my family.
If I have the opportunity, I would like to study law at university in order to help end the suffering of my country and its population because there's a lot of unrest here.
I would like to thank:
Papa director Murhabazi who gave me good advice, especially on how to rebuild my life and make plans, and who explained to me how to leave behind ignorance and move towards knowledge.
Nadège (Belgian volunteer), who has always comforted me, showed me how to change my character and also explained to me why smoking is bad for me. She helped me to feel better and look towards the future, instead of to the past.
The BVES charity who helped me with my schooling, with re-starting my studies and with learning how to take photographs (in Nadège's lessons), all of which may allow me to help my family who are poor and to educate my little brothers. »