Help us
Volunteer with BVES
BVES is always looking for willing and capable volunteers but also for international interns to share their knowledge and experiences in the various domains within which we work, especially activity leading and supervision of young people, education, law, medicine, sociology, psychology and peace-making.
For more information, please contact Murhabazi Namegabe .

Make a Donation
BVES needs your help to continue its work in the promotion, protection and defence of children's fundamental rights. Every charitable gesture made to BVES helps to save dozens of children in the DRC.


Fundraising
Organise fundraising activities and material donation drives for BVES. Ideas for fundraising events:
An African-themed dinner party
A poker tournament with some of the winnings going to BVES
An auction
A party
A concert
For more information, please contact Nadège VAN MECHELEN .
Nadège's story (Belgian volunteer)


Specialist in socio-cultural activities and lifelong education
« I met Muna during an internship with Amnesty International at the end of my studies. He told me about BVES and its work with child soldiers… I immediately thought that his work was spectacular and so important within the DRC. After my studies, we started up a project together and that's how I found myself in Bukavu in March 2011. I worked for 5 months at the Transit and Orientation Centre with former child soldiers.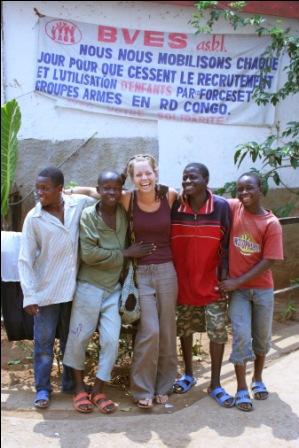 My work consisted, amongst other things, in training staff on ways of organizing activities and improving the management of organization and communication within the Centre. Another part of my job was organizing weekly drawing classes with the children. Once I had implemented this part of the project I adapted it to become an art therapy class. In fact, I realized that drawing allowed the children to express things that they couldn't always manage to put into words. Afterwards, I would have individual interviews with each of them to analyze the content of their pieces of artwork and the meaning that was hidden in them. Aside from that, I became very quickly integrated as a fully-fledged member of the team of educators and so I also took part in the daily activities of the Centre: keeping records, meetings (both internally and externally with all the people actively involved in the field of child protection), psychological observance of children removed from armed forces and groups, awareness campaigns on topics such as hygiene, living together peacefully… But I also took part in organizing trainings on child protection for soldiers and civilians as well as in the reunification of children and their families.
In a nutshell, this experience has given me so much, both on a personal and a professional level. I've learned so much, I put my shoulder to the wheel, and I will never forget the wonderful exchanges and encounters which I had there. »